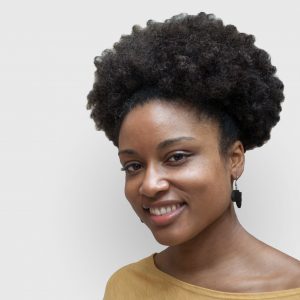 Drawing from her African Nova Scotian heritage, Shauntay Grant pays homage to the past and celebrates kids today through her many award-winning children's books. Community, lyricism and authenticity are hallmarks of her work. From picture books Africville (Groundwood) and Up Home (Nimbus) to board book My Hair is Beautiful (Nimbus), Shauntay Grant's work is a love letter to her people. A professor, playwright, storyteller and the third poet laureate of Halifax, her stories reflect the breadth of her talent.
We are thrilled to celebrate her work on Day 28:
The Back Story
Several years ago I was invited to read poetry at a local event for writers. I shared a poem called "Remember Preston" — a personal narrative inspired by my childhood and experiences in North Preston, one of Canada's oldest historically Black communities an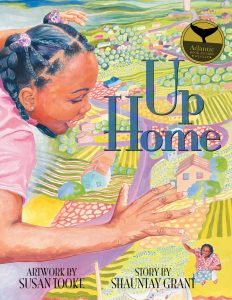 d place that will always be home. I wrote the poem in my late teens, but it was nearly a decade later that I ended up sharing it in front of this audience of writers, editors, publishers, and literary enthusiasts. After my reading, Sandra McIntyre who was a senior editor at Nimbus Publishing at the time, approached me with the idea of turning my poem into a book for children. A few years later, Up Home (Nimbus, 2008) – a collaboration with illustrator Susan Tooke – took home the Best Atlantic Published Book Prize at the Atlantic Book Awards. And it was through this project that I became exposed to the world of children's publishing, and seriously hooked on crafting stories for kids.
The Journey
Most of my kids books have lyric text. In fact, my first three picture books weren't intended to be books at all. 
Up Home
 (Nimbus, 2008) was written for a cultural festival in my home community.
The City Speaks In Drums
(Nimbus 2010) started as a spoken word poem commissioned by CBC Radio – they were asking Canadian poets to write and share poems about their cities. And
Apples and Butterflies
(2012) was adapted from a poem commissioned by Dia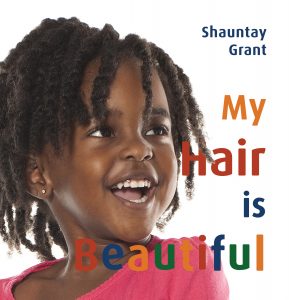 spora Dialogues for
TOK: Writing The New City – Book IV
(Zephyr Press, Toronto). Initially I thought I would continue working with poetic text , but surprisingly my fourth book — written in prose — is the exception. Another surprise was making the move to board books. My most recent publication,
My Hair Is Beautiful
(Nimbus, 2019) was supposed to be a picture book, but deciding to go with a board book made space for new creative possibilities.
The Inspiration
I grew up on Reading Rainbow, and Mufaro's Beautiful Daughters by John Steptoe was huge hit back in the day. I'm also a poet, and I love reimaginings of classic poems for the the children's book market — Ntozake Shange's I Live In Music comes to mind, a gentle and feeling poem with amazing illustrations by Romare Bearden. And of course anything by Langston Hughes.
The Process
My writing process is varied. I teach creative writing at Dalhousie University so the bulk of my writing happens outside of the teaching semester. But generally speaking, I like to write in the mornings from home, but that's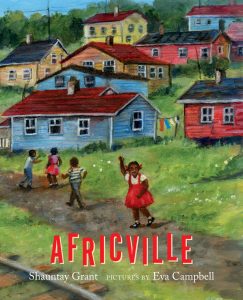 certainly not a hard and fast rule – Africville (Groundwood, 2018), for example, was written during an afternoon visit to the site of Africville. And site-based writing and listening on the physical land has become an important part of my process. Another rewarding part of my research process with Africville was sitting down with former residents, showing them my text and Eva's draft illustrations, and having them check for historical accuracy.
The Buzz:
Marilyn Baillie Picture Book Award (Canadian Children's Book Centre) – 2019
Ruth and Sylvia Schwartz Children's Book Awards finalist – 2019
Governor General's Literary Award finalist – Young People's Literature – Illustrated Books category (Canada Council for the Arts) – 2018
Joseph S. Stauffer Prize in Writing and Publishing (Canada Council for the Arts) – 2014
Ann Connor Brimer Award for Children's Literature finalist (Atlantic Book Awards) – 2011
Poet of Honour Award (Spoken Word Canada) – 2010
Best Atlantic Published Book Award – 2009
Hackamatack Children's Choice Book Award – 2010
Poet Laureate of Halifax (Halifax Regional Municipality) – 2009-2011
Reviews:
https://quillandquire.com/review/my-hair-is-beautiful/
https://www.cmreviews.ca/node/247
https://www.kirkusreviews.com/book-reviews/shauntay-grant/africville/
https://atlanticbookstoday.ca/grants-tale-of-the-hard-won-rewards-of-being-different/
https://shauntaygrant.com/press
To learn more about Shauntay Grant, please her website and FaceBook page.