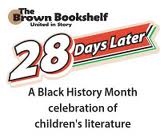 The Brown Bookshelf believes in promoting the work of Black children's book creators year-round. At the same time, we shine a special spotlight on select authors and illustrators during the month of February, in honor of the traditional Black History Month observance inspired by the efforts of historian Carter G. Woodson, who strove to illuminate the vast history and myriad contributions of African Americans at a time when society was particularly resistant to such. We hope you'll be here every day of February. So next up . . .
We're honored to celebrate author, Rhiannon Richardson on Day 3. Rhiannon was born in Oreland, Pennsylvania. Fun fact: She has yet to find it on a map.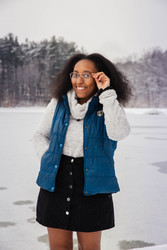 Now she writes from her home in Stow, Ohio where she has pets galore to inspire her writing life and keep her company. They include a dog, two guinea pigs and 20 reptiles and amphibians! According to the Simon & Schuster site, "when she isn't writing, you may find her hiking with her dog, Ernesto, exploring local cafes in search of the best vanilla cappuccino, or you may find her editing photographs."
Her many fans are grateful she found time to write her fabulous novel, The Meet-Cute Project. It has been described as a Rom Com (romantic comedy)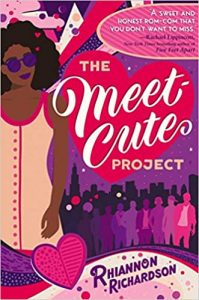 for teens. It features a teen girl, Mia who will do whatever it takes to find a date for her sister's wedding. Just how much will it take?
The Buzz About The Meet-Cute Project:
Junior Library Guild Selection
"This playful novel about an athletic Black girl in search of love will engross readers. Hand this to teens who loved Jenny Han's To All the Boys I've Loved Before (2014) or Leah Johnson's You Should See Me in a Crown (2020)." ― Booklist
"A satisfying, feel-good rom-com." ― Kirkus