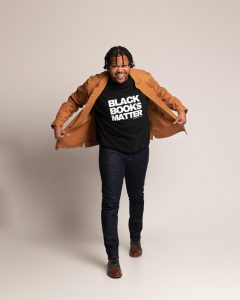 Talented, generous, dedicated and kind are just a few of the adjectives that describe Antwan Eady. Watching his rise has filled us with joy and pride. From helping to create a community for Black children's book creators to showing love to Black authors and illustrators who paved the way and landing deals for his touching stories,  Antwan is an author who has already made an important mark.
His debut picture book, NIGEL AND THE MOON (illustrated by Gracey Zhang and published by HarperCollins), releases on February 15. Stay tuned for many more treasures including his forthcoming picture book, THE LAST STAND, illustrated by Jerome and Jarrett Pumphrey and published by Knopf. We are honored to celebrate Antwan's outstanding work. Here is his amazing story in his own words:
The Journey
I'd like to believe that I've been on this path long before I knew it. But it wasn't until I became intentional that the more defined parts of my writing journey began. Intentional being…when I had something to say…something to offer in this space. But that required growing personally in order for me to meet my creativity halfway.
I wrote my first picture book in 2007. It was titled THE BIG BIG BOOK OF BUSY BUSY BEES. Before and after that, I'd written poetry. In school, I never shied away from opportunities to write creatively. But I didn't know anything about publishing. I just knew I loved writing and people loved my words. Even that was hard to receive.
In college and after college, my writing slowed down a bit. With "adulting" and everything that comes with that, it became a challenge. Fast forward a few years, and in 2019 I met a young Black author, a male, during a book festival in Savannah, GA. That was a game-changer for me.
People talk about representation and how it matters, and it's 100% a part of my testimony. Meeting him, a young Black male author, showed me what was possible. It turned my dream into a goal…something attainable instead of something so far-fetched.
That night, February 2019, I started writing again. By May of that year I was querying. First book? Rejected. Second book? Multiple agent offers but rejected by publishers. Third book? Sold at auction February 2020.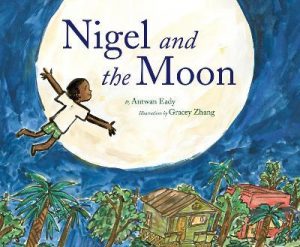 I'm not doing my story justice here because what I'm not sharing are the sacrifices. I wrote during my lunch breaks, after work, on weekends, too. From February to June, I didn't have a social life. I had single-point focus and that was making this book thing happen. And I had so much to learn about writing, the craft…publishing, all of it. I was learning, writing, working my day job, writing, working through lunch, taking on side jobs, grieving, and more.
Well, the book that eventually sold was NIGEL AND THE MOON. And here we are today…two years later.
The Process
My process…hmmm. I have over 60 something ideas for picture books, graphic novels and more locked away in my phone. But what calls me to a project are two things…maybe three: a voice, a line (usually a first sentence), and a feeling/something atmospheric. Either of those three things will take my breath away and it's magical from there.
I mentioned having those 60 something ideas (could be more now) because it helps me decide when a project is "the one." I don't give those idea attention until something (one of those three things) calls to me. It tells me when it's ready. Not the other way around. And I've learned to respect that. Sometimes an opening line will sit in my head for six months before it's ready. Or an idea will sit in my phone for years before it's ready.
I'm a café writer. The pandemic forced me to exercise my writing muscles for sure, so I'm slowly learning to write wherever I am. In the warm months, I write in an open field/park here in Savannah, GA. I have my go-to parks where I sit under Spanish Moss and allow myself to feel whatever it is the wind, trees, ancestors, etc. are trying to tell me.
Regarding the other parts of my process, these days I'm becoming more of a plotter. I was never a true pantser to begin with because, as I mentioned before, I allow my ideas to sit…and take shape before I call forth whatever's in my subconscious.
The Buzz
Success is cultivating our passions. It's knowing that we don't have to be just one thing or love one thing. Success is moving towards the things that frighten us, and it's knowing when we "can't catch fish on dry land."
What means the most to me is living the kind of life that my parents would've been proud of if they were here to see it…to know that I'm making decisions in a way that lets them know that all of the love and support they've given me wasn't in vain.
So far, NIGEL AND THE MOON:
One of Publisher Weekly's Most Anticipated Books of 2022
One of Barnes and Noble's Most Anticipated Kids' Books of February
A Southern Indie Bookseller Association (SIBA) READ THIS NEXT for February Pick. A pick that "presents the favorite books of Southern Indie Booksellers for titles the most highly-rate buzz…"
Starred review from School Library Journal
Starred review from Publisher's Weekly
***I should also mention here that I'm learning about all of this to express gratitude for the people honoring our work. I didn't know the meaning behind starred reviews and more a few months ago…and I've sold several books since Nigel. A part of me just wants to keep my head down and do the work. That's all.
But there's SO MUCH I haven't shared yet because I can't. By the time this is posted, I believe one of those things will be announced…maybe two. But after it's posted, there will be a few more announcements. haha. In the meantime, here are a few blurbs from authors and author-illustrators that I'm inspired by, including The Brown Bookshelves very own Don Tate!
"Nigel is today's Peter from The Snowy Day—this book will surely be an instant classic. I'm pleased to have met Nigel through his story, and I know that every kid with "dreams so bright" will be inspired to share their dreams with the world, too."
—Don Tate, author-illustrator of William Still and His Freedom Stories
"This book made my heart swell to the size of the moon and I found myself beaming with joy as Nigel finds the courage to embrace his own dreams and share them with the world.Nigel and the Moon is destined to become a classic that will inspire generations of readers to find the beauty in their day-to-day lives while also looking to the skies to dream big."
—Minh Lê, author of Drawn Together and Lift
"This is a beautiful book. Eady's sensitive text and Zhang's gorgeous pictures combine in a story that conveys the richness of children's daily lives and the cosmic splendor of their imaginations."
—Mac Barnett, New York Times Bestselling author of The Extra Yarn
"Nigel and the Moon is the beautiful story of Nigel, a young boy who shares his dreams with the moon but isn't quite ready to share them with the world yet. He wants to be an astronaut, dancer and superhero, but every day he packs his dreams away, afraid of what the world might say. On the surface, this book is about a young boy gaining the courage to share his dreams aloud, but it is also packed with deep layers that push readers to question dreams that the world does and does not value. As Nigel comes to understand the beauty and power in his parents' careers, he comes to recognize the worth of his heart's desires. This book will make you tear up as Nigel speaks his dreams into reality. It is a must-read for every person that has ever held dreams close to their hearts, whispered them to the sky, or lived to make them real."
—Joanna Ho, New York Times bestselling author of Eyes that Kiss in the Corners
Under the Radar/Rising Stars
Whew! I love this. First, I have to say that I'm going to list some names here and I'll more than likely forget some. But I'll list the names of authors or illustrators whose works I've read, seen or authors I've simply gotten to know. From PBs to YA.
Gary Gray – represented by Steven Malk
LaDarrion Williams – represented by Peter Knapp
Zanethia Choice – unagented PB writer seeking rep. Beautiful Gullah Geechee stories!
Paris Hamilton – unagented writer with stories out of this world!!! Paris is the truth and the way that he's showing Black boys in fantasy and more…incredible.
Nick Alexander – talented author-illustrator! Represented by Jemiscoe Chambers-Black
Aaron Talley – represented by Jas Perry
Tanisia Moore – represented by Jemiscoe Chambers-Black
Ebony Mudd – represented by Erin Murphy
Malcolm Newsome – represented by James McGowan
Allen Well – represented by Erin Murphy
K.E. Lewis – K.E's bringing so much humor to PBs. Excited about his work.
Make sure you follow Antwan at:
Twitter – @antwan_eady
IG –  @antwan.eady
Website – www.antwaneady.com