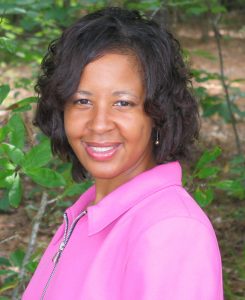 Archivist. Librarian. Historian. With the publication of her debut novel, Escape from . . . Hurricane Katrina, Judy Allen Dodson added another title to her impressive list of credentials – children's book author.  In a powerful story of courage, determination, resilience and family bonds, Allen Dodson gives us twin heroes who weather a devastating storm outside and the emotional storm of a mom battling cancer. Love shines in every part of their journey.
An advocate for children's literature diversity, Judy is a co-ambassador of the Raleigh-Durham Chapter of The Authors Guild and helped organize the Black Voices: Pushing for Change in Children's Book Publishing series this summer.  For years, she has celebrated Black children's book authors and illustrators in her professional life and community service. Now, the spotlight is on her. A name to watch, we look forward to all of the amazing stories she'll bring to life.
Please join us in saluting Judy Allen Dodson on Day 5.
The Journey
JAD: My journey began even before I started writing. It began when I read stories to my children and wanted to see more representation of Black characters in picture books and chapter books. I wrote a chapter book for my kids and they loved it. That's when I realized that maybe I could be a writer.
I sought out a writing community and found the Society of Children's Book Writers and Illustrators, Carolina chapter (SCBWIC) and the support I needed to realize my dream. Next, I found a critique group for fantasy writing, MAGIC. I attended lots of writing conferences in Raleigh, Charlotte, LA, NYC and more, where I learned the technique of crafting my stories. As I began receiving recognition for my writing like being accepted into the Rutgers University Council on Children's Literature (RUCCL) conference and winning the SCBWI Emerging Voices Award, I knew I was getting close to a deal. But my struggle was finding an agent. That seemed like it took years. I finally signed with Lara Perkins from the Andrea Brown Literary Agency in 2019. My first book, Escape from . . . Hurricane Katrina, debuted through Follett Book Fairs last year. It will be available to the public in July. Right now, I'm working on several manuscripts.
The Back Story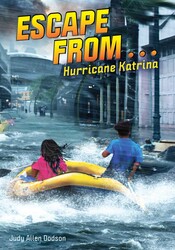 JAD:  I always wanted to do a story with fraternal twins. So, when my editor at Little Bee Books said that he wanted a story with alternating point-of-views (POVs), I immediately thought of Josiah (Jo Jo) and Josephine (Sophie). As twins, they needed to connect in ways that siblings relate to each other but share an even deeper bond. Having them as fraternal twins made their characters similar but different when you add the boy/girl aspect. When I think about my writing process, I realize that Jo Jo and Sophie wrote their own stories. I had to know what each one felt at every turn. I became Jo Jo. I became Sophie. I was rewarded with seeing them come to life on the page. They had such unique and strong personalities that watching their growth through adversity gave me the hope I needed to survive our current global pandemic.
The biggest challenge in writing the story was going back to the time of Hurricane Katrina – nearly 16 years ago it hit the Gulf of Mexico (New Orleans) – and watching all of the news reports and seeing all of the pain, struggle, and destruction. It just broke my heart all over again. I watched it live on TV in 2005 when Hurricane Katrina hit Louisiana. But having to relive this horrific natural disaster and then write about it from the perspective of two 10-year-old children while living in the midst of our own terrible pandemic was unreal and emotionally challenging.  I had to take lots of mental breaks between researching and writing. This was a tough subject to write about but I wanted a new generation of young readers to understand the devastation of a hurricane, losing your house and needing to protect your sibling from strangers.
It was extremely challenging for me to take this journey with my characters but in the end, we all came out more resilient. Escape from . . . Hurricane Katrina will give young readers an idea of what it was like for Jo Jo and Sophie to face a challenge and to survive. These lessons of love, hope, and courage can inspire a new generation of young readers through this current global pandemic, COVID-19, so they know they can overcome anything.
The Process
JAD: My writing process always begins with the idea. On a good day, I come up with three or four book project possibilities. Most days I can't write fast enough to grab them all and that's when I know that those ideas have chosen me to bring them to life. It's a special gift and I'm so thankful to have it. I usually begin writing all of my ideas down and then I go back and outline my story. It's much easier for me to work from an outline. Even though I rarely stick to it, having an outline gives me a foundation. I can write anywhere but I do need long blocks of time to write, at least two hours. It takes me a long time to quiet down the other million thoughts in my head. I'm a night owl so I'm usually awake until two or three in the morning.
The Buzz
JAD: Well let me first start by saying thank to The Brown Bookshelf for selecting me as for this year's 28 Days Later campaign! This is such an honor. I'm truly grateful. I'm thankful that my story, Escape from … Hurricane Katrina, is being recognized so that a new generation of young readers can learn about this natural disaster.
I measure success in a couple of different ways. First, getting my idea out of my head onto the page. My goal is to articulate my story in a way that my agent and editor will fall in love with it like I have. Second, getting my book into the hands of young readers who look like my characters and can identify with them. I also want those young readers that don't look like my characters to understand that my characters, who are Black kids, are humans who have feelings, live in houses, have mothers, fathers, grandparents and cousins and live normal and regular lives. Lastly, I measure success by having kids reading and learning about the Black experience, themselves, and other cultures. My wish is that the young readers who are looking for ways to stay encouraged during this COVID-19 pandemic find hope and inspiration in Jo Jo and Sophie's journey and know that when they're faced with an obstacle that they will dig deep, find strength, and persevere to live another day.
The State of the Industry
JAD: Actually, I'm feeling a lot more encouraged than I was, say a couple of years ago. Yes, we have a long way to go but what I'm hearing are more agents, editors, and publishing houses, large and small, showing Black creators more respect and valuing our work. As horrible as 2020 was, the bright side of last year was those in the kidlit industry were forced to take a long, hard look at themselves and acknowledge the fact that they had been promoting systematic racism whether they knew it or not. Some industry professionals began using their privilege to support Black creators. They began reaching out on Twitter offering their expertise to help open those doors that had been sealed shut. With this overwhelming show of support and the need for community, a Black writers' and illustrators' group was formed, #blackcreatorsinkidlit. It's an ideal virtual hub of weekly instruction from industry professionals offering tips, craft sessions, and marketing advice.
It's refreshing to have conversations about race, equality, and equity in the kidlit industry. It's a positive step toward righteousness when we can write and illustrate our stories about our own lived experiences. We won't know for a couple more years if this movement has increased the number of books about Black people by Black creators but industry professionals must remain vigilant and intentional with their efforts to support Black creators. I am optimistic that the barriers of systematic racism and inequities that are holding us at bay are beginning to lift.
Learn more about Judy at www.judyallendodson.com. Follow her on Twitter @JADlibrarian.