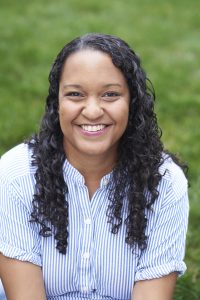 Janae grew up in the suburbs of New York City, where she always wrote. She started out writing illustrated autobiographical stories in kindergarten, and then journal entries, stories to submit to Seventeen Magazine's short story contests, and letters to her pen pals and summer camp friends. She read a lot too, of course. Her books were among her prized possessions.
In high school, Janae thought she wanted to pursue musical theater. She loved being on stage, but eventually realized that she cared more about the stories than the performances. While getting her undergraduate English degree, she switched her focus to creative writing and never looked back. She took a literature class on "Girls' Books," where she read Little Women, Harriet the Spy, Weetzie Bat, The Golden Compass, and others. She remembered how much she loved stories for children – and still connected with them, even as an adult.
That love only grew when she got an MFA in Creative Writing (Writing for Children) from The New School. She'd found her passion! After college, she got an inside look at the publishing world while spending seven years working for a Big 5 publisher. Now, she lives in Connecticut, and when she's not writing fiction or working in education, she's spending time with her husband and daughter – at the beach, when it's warm enough!
On this the seventh day of February, The Brown Bookshelf is honored to highlight:   JANAE MARKS
The Journey:
Growing up, I didn't know I wanted to become an author, though I always loved reading and writing for fun. It wasn't until I got to college, where I majored in English and took creative writing classes, that a dream to publish a book of my own took shape. After college, I decided to get an MFA in Writing for Children from The New School, where I started writing my first novel. I eventually queried it but was rejected by over fifty literary agents. It was tough, but I refused to give up. For the next few years, I kept writing, all while attending workshops and conferences to improve my craft. My perseverance paid off because when I queried my fourth manuscript, From the Desk of Zoe Washington, I received multiple offers of representation from literary agents, and it eventually went to auction with publishers. It hasn't always been smooth sailing, especially since I debuted right around the start of the pandemic, but I've truly been living my dream ever since!
The Inspiration:
I'm inspired by the Black children's book authors who paved the way, making it possible for me to publish my books: Jason Reynolds, Jacqueline Woodson, Rita Williams-Garcia, Jewell Parker Rhodes, Varian Johnson, and many others. Their writing inspires me, as well as their careers.  For a long time, publishing seemed to only want books by Black authors that focused on painful topics and themes like slavery or racism. While the above authors do write about those topics, they also write about Black joy. The Black experience is not a monolith and I'm grateful that the publishing industry is finally starting to understand and embrace that.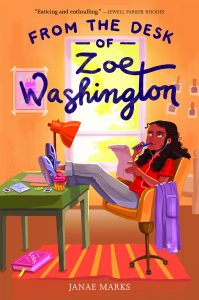 The Process:
I start with different sources of inspiration–sometimes a character, other times a concept. But I always create an outline before I start writing. One simple outlining technique I like to use is Dan Wells' seven-point plot system. (Here's the first video in a YouTube series where he explains it.) Once I have the seven points down, I'll expand on them until I have a synopsis or list of scenes. When I'm ready to start drafting, my goal is to write at least 1,000 words during each session. I try to write daily, but it doesn't always happen since I also must juggle parenting and my part-time job. But I can usually finish the first draft of a manuscript in a few months. Then I get to do my favorite part of the process: revise!
I prefer to write outside of my house–at the library or a coffee shop. During this pandemic, I've had to write at home more. I have a desk, but often sit on my armchair or the couch where it's comfier.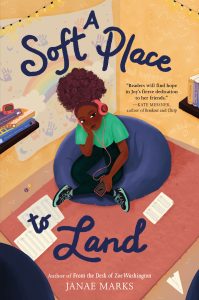 The Buzz:
I'm fortunate that my debut middle grade novel, From the Desk of Zoe Washington, got a lot of buzz! It received starred reviews from Kirkus, Publishers Weekly, Booklist and School Library Journal. It was also #1 on the Kids' Indie Next List, a Junior Library Guild Selection, a Project Lit Book Club selection, and the winner of the ​2020 Cybils Award. It was named best book of the year by Parents Magazine, Book Riot, Kirkus Reviews, Booklist, Chicago Public Library, the Boston Globe, and the Bank Street College of Education. Disney Branded Television has put into development an original movie based on the book, executive produced by Kerry Washington's Simpson Street Productions, and Gamechanger Films.
My second middle grade novel, A Soft Place to Land, received starred reviews from Publishers Weekly and Booklist. It was a Kids Indie Next Pick and a Project Lit Book Club selection. Bookpage wrote that "A Soft Place to Land confirms [my] status as one of the brightest new stars of contemporary middle grade." You can watch the trailer HERE.
You can read more about Janae at http://www.janaemarks.com/, and follow her @janaemarksbooks on Twitter, Instagram and Facebook.
Thank you, Janae, for your contributions to children's literature!