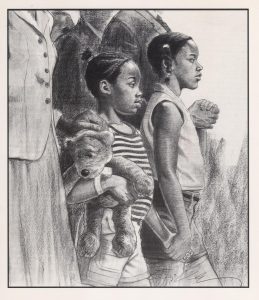 In the final stretch toward Election Day, The African American Children's Book Project, founded by Vanesse Lloyd-Sgambati, and The Brown Bookshelf invite the Black publishing community to help mobilize voters. Please read the post below, spread the word and sign on in the comments to add your name. Our hashtag  is #whywevote. We would love for you to share this post on social media with a line or two about why voting matters to you. Together, we can make a difference.
"Not everything that is faced can be changed, but nothing can be changed until it is faced."
James Baldwin
Literacy tests, grandfather clauses, poll taxes, intimidation and violence were once used to try to stop our people from voting. As voter suppression efforts intensify, we are reminded of that history and recognize that we are at another pivotal time. We, the undersigned Black authors, illustrators, booksellers, librarians and publishing professionals, stand with those who came before us, who fought for us, who believed in the power of participation. We must push for a brighter, more just future for the children we serve.  This is why we vote.
This is not the time to sit this one out. This is not the time to catch you on the next one. This is the time to use your power. Make this commitment to justice, honor each and all of our stories, and vote!
What you can do NOW!            
Make A Voting Plan – visit  iwillvote.com for additional information.
Vote Early.            
Encourage others to do the same.
Our lives have infinite value. Your voice matters. Be the change. Vote!
 "Change comes with action. With action comes change." 
Vanesse Lloyd-Sgambati

Signed:
Vanesse Lloyd-Sgambati
Olugbemisola Rhuday-Perkovich
Kelly Starling Lyons
Crystal Allen
Don Tate
Tracey Baptiste
Gwendolyn Hooks
Paula Chase Hyman
Varian Johnson
Tameka Fryer Brown
Eric Velasquez
Wade Hudson
Cheryl Willis Hudson
Katura Hudson
Nikki Grimes
Renée Watson
Lesa Cline-Ransome
James E. Ransome
Carole Boston Weatherford
Andrea Davis Pinkney
Sharon G. Flake
Jacqueline Woodson
Marie Brown
Judy Allen Dodson
Regina Brooks
Joyce Hansen
Dinah Johnson
Nancy Tolson
Torrey Maldonado
Floyd Cooper
Sharon G. Langley
Zetta Elliott
Tami Charles
Synthia Saint James
Andrea Loney
Kwame Mbalia
Debbie Rigaud
Nikki Shannon Smith
Edith Campbell
Leslie C. Youngblood
Valerie Bolling
Natasha Tarpley
Susan Robeson
Nina Crews
Dr. Marietta Collins
Gennelle Taylor
Nicole Tadgell
Jerry Pinkney
Gloria Jean Pinkney
Linda Trice
Michelle Meadows
Mélina Mangal
Dr. Claudette McLinn
Tammy Bailey
Sandra Renrick
Sign on in the comments to add your name.