It's our favorite time of year! We are proud to announce the honorees of our 15th annual 28 Days Later campaign, a Black History Month celebration of outstanding Black children's book creators. Each day during February, we will showcase an author or illustrator whose work reflects parts of who we are.
It's more important than ever to raise awareness and support books by children's book creators from around the African Diaspora. Each year, more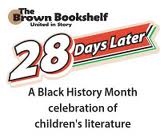 books are traditionally published about us than by us. That has to change.  Our mission is to raise awareness of the many Black voices writing for young readers. Through our 28 Days Later campaign, we want to empower children, parents, educators, librarians and booksellers with names of authors and illustrators who are too often unsung.
Please spread the word and join us in saluting our honorees. The children's book creator and the day they will be featured are as follows:
Day 1 – Nikkolas Smith
Day 2 – India Hill Brown
Day 3 – Elise Bryant
Day 4 – Antwan Eady
Day 5 – Lisa Stringfellow
Day 6 – Raissa Figueroa
Day 7 – Janae Marks
Day 8 – Joya Goffney
Day 9 – Winsome Bingham
Day 10 – Desmond Hall
Day 11 – Charnaie Gordon
Day 12 – J. Elle
Day 13 – Lakita Wilson
Day 14 – Reggie Brown
Day 15 – Michelle Coles
Day 16 – Brittany J. Thurman
Day 17 – Nicole D. Collier
Day 18 – Jamilah Thompkins-Bigelow
Day 19 – J. Dillard
Day 20 – Vera Ahiyya
Day 21 – David Anthony Durham
Day 22 – Alleanna Harris
Day 23 – Sarah Dass
Day 24 – Shanna Reed Miles
Day 25 – Bryan Patrick Avery
Day 26 – Adrea Theodore
Day 27 – Tina Wells
Day 28 – Amber McBride